Natural Stone Pool Coping Tiles
What is Pool Coping? What are Pool Coping Tiles? How to install your Pool Coping
What you NEED to know to fully understand the importance of selecting the correct type of pool coping!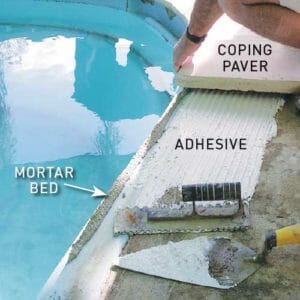 Pool coping is a NON SLIP material that is installed to finish the top edge of the pool. It is USUALLY cut to follow the concrete pool beam around the perimeter of the swimming pool. The pool beam is usually between 250mm – 450mm in width. PLEASE remember that your pool coping tile will OVERHANG into the swimming pool by about 20mm – 30mm. Therefore IF your pool beam is 300mm in width you will require your pool coping tile to be at least 320mm – 330mm wide. The length of your pool coping is not critical UNLESS you have a heavily curved swimming pool ie circular or kidney shape.
A coping tile with a bull-nose front edge has been the standard pool coping for many years. Modern pool designs are making use of "DROP FACE" pool coping tiles, usually with a square drop face edge with a small bevel to the bottom and top edges. An expansion joint between the coping and any additional paving or hard surfaces abutting it is REQUIRED. Style, cost, and maintenance are all items to consider when deciding on your pool coping. Your Stone & Slate Discounts sales representative can help guide you through the decision process and help you make an educated choice. We supply free samples across Sydney, Melbourne, Brisbane, Adelaide, and Canberra.
Contact Us Now Regarding your choice of Pool Coping
Use the below contact form to ask us any questions you may have, or to request your FREE sample.
(If wanting a sample, make sure to include your postal address!)
Stain Resistance
Paving can be exposed to a wide range of staining agents. When it comes to entertaining poolside, red wine from spilt drinks is an obvious hazard along with oil from barbecues and foodstuffs. Tannin from fallen leaves and surrounding garden vegetation is also a potential source of staining.
You can reduce the risk of staining by selecting a paver that has a low absorption capacity. Stains can be more conspicuous on pavers with a uniform appearance (especially mid-tones) compared to material that is more highly figured. Most types of high density limestone, travertine, granite, slate and bluestone are effective at resisting stains.
Judicious use of an oil repellent impregnating sealer around high risk areas such as barbecues can help preserve the appearance of your stone. We recommend the use of TASMAN CHEMICAL'S STONE SHIELD.
Slip Resistance
Safety around the pool should include the installation of slip resistant paving.   Most stone types can be prepared in a wide range of surface textures that are safe around a pool including sawn, grit blasted, flamed (exfoliated), and split face.
DO NOT USE honed and factory filled travertine in ANY external areas open to getting wet on the surface (too slippery). The trapping of grime on rough texture surfaces can occur, but this can usually be handled with a high pressure hose and stiff bristled broom.
Salt Tolerance
Pool surrounds are an aggressive environment for paving as it is regularly exposed to salt or chlorine.   Resistance to salt attack can be determined by Australian standard method AS/NZS 4456.10A.  This method measures the weight loss of the stone after repeated immersion in a salt solution.  Stone used as pool paving should have a maximum weight loss of 1%.
Granite, travertine, high density limestone and bluestone usually have very good salt resistance.  Some types of slate and sandstone are also suitable for use, we recommend HIMALAYAN SANDSTONE. The use of a textured finish can hide minor surface decay.
It is also important to note that the incorrect use of sealers can lead to accelerated decay of poolside paving as it can trap salt within the stone. We recommend the use of TASMAN CHEMICAL'S STONE SHIELD.
Strength & Stability
Strength.  It is important that the paving has adequate strength to withstand service loads in both dry and wet conditions.  Sedimentary stone types such as sandstone and limestone can lose over 50% of its strength when wet.
Loss of strength can be accommodated in paving design.  As an example, doubling the thickness of the paver increases the breaking load fourfold while use of square paving units also reduces the risk of breakage.
Stability.  Frequent wetting and drying of pavers can lead to expansion and contraction of minerals within the stone which can lead to decay.  Stone types that have a high clay content or contain expansive minerals such as some volcanic sandstones may cause the stone to be dimensional unstable.  Long thin pavers are at a greater risk of warping, so if using these we suggest a minimum thickness of 20-30mm be used.
The inclusion of regular expansion joints at least every 4.5 metres and the use of rapid setting adhesives can reduce the risk of warping. Also please ensure there is an active expansion joint in the pool paving between the pool beam (coping tile) and the rest of the paving. Square paving units are usually more dimensionally stable than long rectangular units.  Increasing the paver's thickness also improves stability.
Hopefully, these selection criteria will help you in discussions with your stone merchant. When discussing your project with the supplier, it is important that you provide as much information as possible about your project.  It is in your interest that the supplier fully understands what you need so they can provide you with a product that is fit for purpose.  Remember the five S's and enjoy your pool with peace of mind.